FEATURES
Ultra High Pressurized slurry flow design,with the best formation of diamond disks, & efficient nozzle arrangement is able to :
ensure the perfect development and collapse of cavities, discharging such high energies (Cavitation Damage)
improve the basic functions, crushing, dispersing, emulsifyiung, by such a high efficient cavition damage
provide longer parts life
Long established experience in designing, manufacturing, and engineeing ensures :
better man / machineinterface
easy cleaning, maintenance of the systems
MODEL DSU-2515P162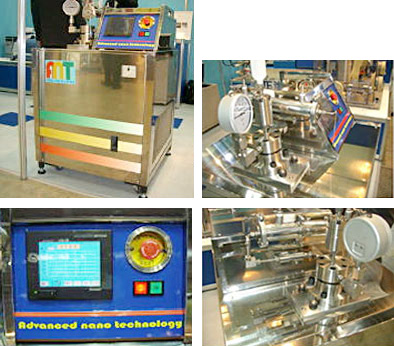 MODEL LSB/Uー2010P12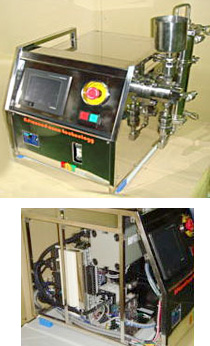 SYSTEM CONCEPT
Cavities are effectively generated in the slurry, passing through the special designed disks
and nozzle configuration, and then rapidly collapsed reaching at the open area.
The high energy is cleated over the particles, when the cavities are disappearing.
The Process, "Cavitataion Damage" enforces the crushing, dispersing, and emulsifying,
which creates such fine nano particles.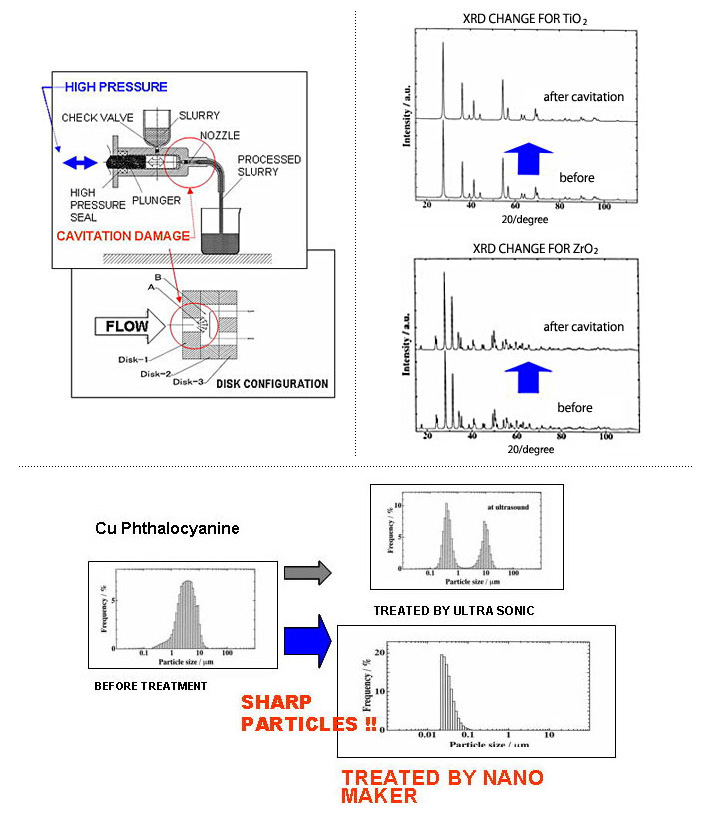 APPLICATIONS
PIGMENT
CARBON BLACK
CMP SLURY
RARE METALS
NICKEL
ALUMINA
ZIRCONIUM
CARBON NANO TUBE
COSMETIC MATERIALS
CERAMICS
FERRITE MIX POWDER
ALUMINUM CHLORIDE
CARBON MATERIAL
DRUG MATERIAL
METAL POWDER
GRAPHITE
SILICA
FOOD ADDITIVES
& OTHERS

TEST DATA
MATERIALS
PROCESSING
SOLVENT
PROCESSING
REMARKS
D50(μm)
D90(μm)
D50(μm)
D90(μm)
ALUIMINA
3.41
5.10
WATER
1.98
3.40
150MPa/1Pass
INDIUM
0.34
2.12
ETHANOL
0.08
0.12
130MPa/3Pass
CARBON BLACK
25.13
WATER
0.98
130MPa/2Pass
COBALT
6.72
11.80
1.73
2.98
150MPa/3Pass
ZINC OXIDE
3.60
6.70
WATER
0.45
1.32
100MPa/3Pass
TITANIUM OXIDE
19.20
0.23
100MPa/3Pass
MAGNETIC MATERIAL
(MSG-W11)
0.38
0.08
100MPa/5Pass
ZIRCONIUM
26.80
WATER
0.46
100MPa/3Pass
CALCIUM CARBONATE
0.45
1.51
WATER
0.18
0.24
150MPa/3Pass
NICKEL
0.88
4.47
0.41
0.52
150MPa/3Pass
γ-HEMUTITE
2.00
0.43
100MPa/3Pass
LITIUM ALUMINATE
(LiAIO2)
19.78
0.32
100MPa/3Pass
LINE UP
MODEL
LSU-2010P14
DSU-2515P16
PR-***/***
MAX PRESSURE (MPa)
200
250
30~200
MAX FLOW RATE (L/h)
10
15
30~3,000
CONSUMPTION OF
ELECTRICITY (k/W)
1.5
2.5
3.7~5.5
DIMENSION
(W×D×H/mm)
600(W)×550(D)×400(H)
700(W)×700(D)×1400(H)
CUSTOMER REQUIREMENT
BASIS
DRIVE
AC 200V
AC 200V
REMARKS
FOR LABO &
SMALL PRODUCTION
CHILLED WATER NEEDED

企業情報
社名

アドバンスト・ナノ・テクノロジィ株式会社

所在地

〒353-0003
埼玉県志木市下宗岡4-13-24
アクセスマップ

TEL

048-485-2738

FAX

048-485-2747

受付時間

9:00~18:00

定休日

土・日・祝